Salem UB Church Coronavirus/COVID-19
UPDATE:
Sunday, June 7, we'll be meeting in the Worship Center building once again at our normal service times: 8:30am Traditional Service, 11am Contemporary Service.
In order to minimize the risk of coronavirus transmission, we have incorporated some specific practices that will be utilized until further notice:
There will be no Sunday School or Fellowship Time. No one will be permitted to use the Community Center or Youth Center on Sunday mornings.

Everyone will enter the Worship Center building through the vestibule on the side that faces the Community Center parking lot.

Doors will be propped open so no handles need to be touched.

There will be no greeters; bulletins will be picked up from a stack in the vestibule.

Everyone is required to stop at the hand sanitizer station in the vestibule and use hand sanitizer before entering the sanctuary.

Please refrain from shaking hands with one another and giving hugs.

Household groups are required to keep a six-foot distance from others not in their household the entire time they are on church property.

In order to maintain social distance, attendees are required to use every other pew. The pews will be clearly marked as to which ones are available for use at each service.

No offering plates will be passed. Offering will be dropped into buckets placed by the door on the way out of the building after each service.

The use of face masks is highly encouraged but not required.

We ask that you do not linger in the sanctuary following the services. Conversations among one another are encouraged but should take place outside at appropriate distances from one another.
We understand that utilizing these practices will likely minimize the risk of coronavirus transmission. However, there is no way for us to guarantee the safety of every attendee. Therefore, we encourage each person to carefully weigh the risks involved before determining whether or not to attend worship. The elderly and others with health conditions that make themselves especially vulnerable should consider staying home. Sunday morning sermons will still be able to be viewed online. Instructions on how to do that will be sent out via email.
We ask that everyone respect each other's decisions as to whether or not to attend worship at this time.
Please be patient as this is all new to us and this is a fluid situation. We may need to make quick adjustments as we work through our process and learn new information.
Salem's Board of Administration also asks for your continued prayers for wisdom as we proceed forward reopening the church for other programs.
Thank you for your prayers,
The Administrative Board of Salem U.B. Church
* * * * * * * *
Welcome to One W
ay Youth Ministry Website
Thanks for taking the time to check us out.
If you have any questions ,
Please feel free to contact us on our
"Contact Us Page
Jesus answered,

"I am the way and the truth and the life. No one comes to the Father
except through me –
John 14:6
Don't let anyone look down on you because you are young, but set an example for the believers in speech, in conduct, in love, in faith and in purity –
1
Timothy 4:12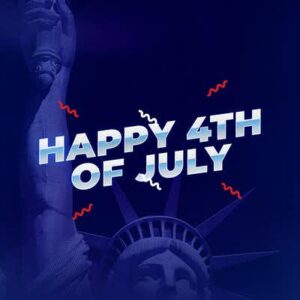 Hey Everybody .
Just wanted to let you know that we will be taking a couple of weeks off fro ZOOM Youth Group on Wednesday nights.
Stay tuned in and we will keep you posted on when we will start back up and new vents coming soon.
God Bless You all and have a Great Day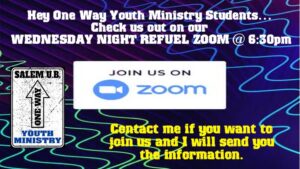 1 WYM Family Night at BURGERS IN THE PARK.
Sign up today by contacting Slugg by messenger, text, or
email at slugg@salemub.org or call him and let him know how
many in your family will be attending
*** All Attendees will need a Participation
COVID-19 Permission slip for this event.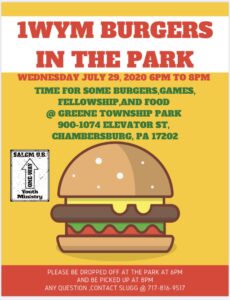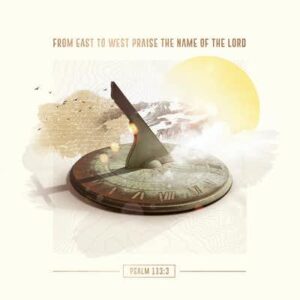 We have confirmed and started planning for our
2021 Youth Mission Trip to
Mandeville Jamaica.
Friday June 18th to Sunday June 27th,2021
Applications are available for all students 8th grade to 12th grade starting May 17.
Please contact Slugg if you would like to have an Application sent to you.
We will have a 2021 Jamaica Mission Trip ZOOM

informational

meeting on Sunday May 17th @ 2pm.
Please contact Slugg for the link to join us for this meeting if you are interested
What's Up at
Sunday Morning Sunday School
@ THE CENTER from
9:30am to 10:30am:
/ /2020
Lesson 4 –
"False Teaching"
It is important to know how to recognize false teachers who damage the mission of the Gospel by using portions of the truth to disguise their false teachings.
WHAT'S UP AT WEDNESDAY
REFUEL
@ THE CENTER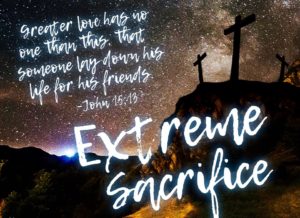 – -2020
Lesson #3:
"Lead Us Not into Temptation"
As we grow in faith and sacrificial service, we could encounter temptations to veer off the path.
This week's WORD:
Psalm 25:5
Fellowship starts at 6pm with
a light Dinner,
followed by a Time to fellowship,and then unto the
Extreme Sacrifice Lesson.
6/3: ZOOM YOUTH GROUP @ 6:30PM
6/10: ZOOM YOUTH GROUP @ 6:30PM
6/17: ZOOM YOUTH GROUP @ 6:30PM
6/24: ZOOM YOUTH GROUP @ 6:30PM
7/1: NO YOUTH:Summer Break
7/8: NO YOUTH:Summer Break
***

7/15:FIRE & ICE @ The CENTER
7/22:NO YOUTH:Summer Break
***

7/29: Burgers at The Park
*** All Attendees will need a Participation COVID-19 Permission slip for this event.
CONTACT SLUGG IF YOU WOULD LIKE THE MEETING LINK INFORMATION
One Way Youth Information:
One Way Youth Ministry
4349 Letterkenny Road
Chambersburg ,Pa 17201
1-717-263-4123