Parents and Students…
GET CONNECTED TO
We are here so you can

Get Connected

and Stay Connected to whats going on here at
Parents and Students…
GET CONNECTED:
*One Way Youth Ministry website :youth@salemub.org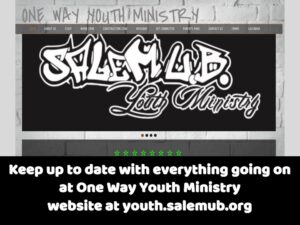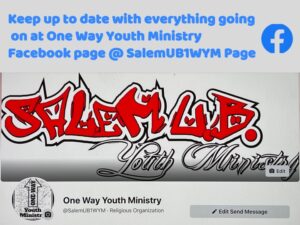 facebook: Check us out on Facebook at One Way Youth Ministry.Just get on Facebook and type in One Way Youth ministry and we will friend you so you can keep up with what's happening with 1 WYM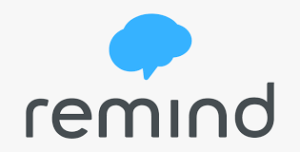 REMIND 101: Remind 101 is a tool to connect every Youth and Parent with Slugg at 1 Way Youth Ministry on important information with One Way Youth Ministry activities, events, and improve communication at the same time. Please sign up today. It is free and the instructions are easy to follow. Instructions are below….
"Remind 101 Instructions"
If you can receive text messages, please send a text message to:(717) 496-9848 and type this as your message: @1way
(Please be sure to triple check your spelling and don't forget the @ symbol)
If you do this correctly, you will receive a message in return that says Remind Updates: You've been added to Slugg's Class! "Thanks, Slugg needs to know who you are before adding you to @1way. Please reply with your full name"
Be sure to reply and send first and last name.
Then you will receive a message that says "Thanks 'your name' ! As a member of @Slugg's Class, you will receive all Slugg's Notifications for 1 Way Youth Ministry. -remind101"
Doing this will add you to a list to receive important text message updates about 1Way Youth Ministry.
Contact Slugg at the following Options:
Daryl "Slugg" Kissinger
Director of Kids & Youth Ministry
Salem United Brethren In Christ Church
4349 Letterkenny Road
Chambersburg Pa 17201
slugg@salemub.org
Cell # 717-816-9517
Office # 717-263-4123
youth.salemub.org