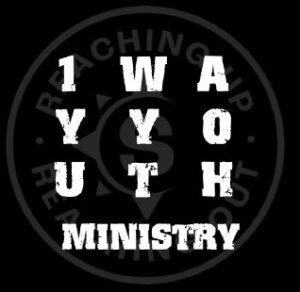 1W.Y.M. is a next generation ministry that has become a regional landmark for

Passion, Authenticity,and Community Change stemming from those entering Middle School to those graduating High School, everyone can find their place in ONE WAY YOUTH MINISTRY. With a PASSION for the LOST and HURTING World,ONE WAY YOUTH MINISTRY is Creating ways

To BUILD YOUTH 4 CHRIST.

We aim to take a different approach in reaching out and helping Youth along their journey.
We utilize all medias and means to Communicate the Gospel message to Students in a environment that is
RATED E FOR EVERYONE.

WE BELIEVE that God has uniquely called ONE WAY YOUTH MINISTRY to present the Gospel in an uncomplicated and common sense way to truly be a YOUTH Ministry that is Committed to
KNOW–GROW–SHOW-Youth 4 CHRIST in His Community.
Our HOPE & PRAYERS

:

for our Youth is that when our YOUTH graduate from our YOUTH Ministry that they do not graduate from their faith, but are able to Continue Spiritual Habits in Life after High School as they take that next path on the Course that God has already prepared for each of

His YOUTH.
Check us out sometime soon. It would be our Blessing to have you part of God's Team here One Way Youth Ministry. If you have any questions please feel free to contact me at the Youth Center Office at 717-263-4123 or email me at daryl@salemub.org. You can also find me on Facebook and check us out on Facebook at Salem UB One Way Youth Ministry Many
Blessings To You All
SALEM ONE WAY YOUTH MINISTRY
4349 Letterkenny Road
Chambersburg Pa 17201
Church email:salemub.org
Church Phone Number: 717-263-4123